BUSTED OUTLOOK "Not Defined By Violence" LP release interview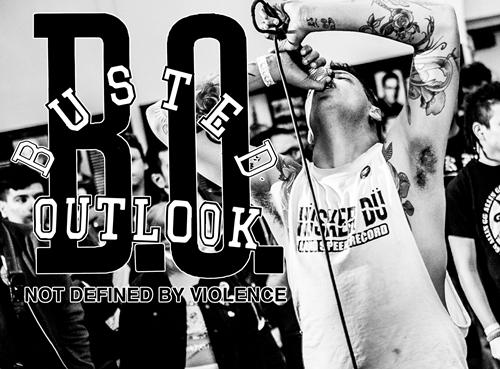 --thank you very much for taking your time for this interview! can you introduce yourself?
Rich- No problem! Thank you! I am Rich I sing and jump around
Jeremy- Yo! Jeremy here, guitar
Fred- Fred. I learn the riffs and dive the bombs.
Eric- Eric Book feelin the bass
Taylor- I'm Taylor, I play the drums
--BUSTED OUTLOOK based on California san jose.when and how to met each member and be formed band?
Rich- 2 of us live in San Jose which is about an hour south of San Francisco where 2 members live and another member lives across the bay in Oakland, I dont know how familiar you are with bay area geography, that may be confusing, but we are not based in San Jose. We met at shows, we all play in several bands. The band started as a project for me and Jeremy the guitarist. He had some riffs and I had some lyrics and had never sang in a band before so we decided to give it a try. We (me and jeremy) recorded the demo just us two and we thought it was cool so we decided to make it a real band. Thats when we asked everyone else...Did I leave anything out?
Jeremy- Rich hit the nail on the head. We all knew each other from different things in life but punk / hardcore is what brought this project to life.
--i'm guessing BUSTED OUTLOOK is quoted from song name of DESPISE YOU.why you named as band name?
Rich- Hell yea! A lot of folks dont catch that surprisingly. Its one of my favorite despise you songs, I really appreciate the honest emotion you get form those first despise you releases. Shit is so heavy and angry. We obviously sound nothing like them though, but whatever.
Fred- Despise You is sick
Eric- Second band with a Despise You band name I have been in.
Jeremy- I like the name.. I don't listen to Despise You though :] Rich and I were going over names for awhile before this one stuck. BO WRECKING CREW
--i think BO sound is inspired by 88 YOUTH CREW.and fast core and powerviolence is mixed.what do you say about my opinion?
Rich- Definitely 88 youth crew, that shit is like the biggest influence for this band. Although a few of us dig powerviolence and fastcore I dont think that's our aim. I like hearing what people think we sound like though!
Jeremy- 88 youth crew for sure! Boston and NY hardcore really drive me most. Like groovy ass riffs... and hard mosh parts. We try to incorporate all of this in our song writing.
Fred- I can't speak for everyone in the band but I know me, rich, and Eric used to listen to a lot of fastcore/625thrash type shit in the early 2000s and that influence might leak out just a little bit.
Eric- Youth crew has always stuck with me over all my powerviolence days. Love them both
Taylor- I could be wrong, but in many circles fastcore and 88 youth crew is considered the dorkiest of all the subgenres of hardcore punk. Which is a huge reason reason why I gravitated towards both when I got into punk and still love both genres today.
--in fact what bands influenced to you?
Rich- Me personally in the making of this band... Youth Of Today, Uniform Choice, Esperanza, No Justice, and a lot of early Young Blood Records releases.
Jeremy- Bands that influenced me in writing the LP would have to be... and in no order what so ever... Outburst, Confront, YOT, UC, Absolution, Altercation, Jerry's Kids, SSD, and a ton more. Plus a handful of current bands but I'm not going to name those here. Listen to the records and maybe you will figure that out
Fred- I don't write any music for BO but I dig all the hardcore bands these guys just listed. I'm also really into 70s rock and 80s shred guitar and some of that may shine through in the cheeseball lead shit that I play. Also Chelsea (death side/paintbox) is a major influence on my playing because of the way he was able to mix ripping, dramatic lead guitar with furious punk/hardcore. No one else before or since has been able to do it like he did.
Eric- Jerm writes almost all the riffs but I feel very YoT when the bass breaks
Taylor- My taste in Hardcore is pretty across the board so pin pointing a few bands that influence me is always really difficult because many bands inspire me in different ways. But as far as this band goes I attempt and usually fail to rip off some of my favorite hardcore/punk drummers such as Sammy Siegler of Youth Of Today, Aaron O'Neil from Lights Out, Daniel Fang from Mindset and Turnstile, Mackie from the Cro-Mags and Bill Stevenson of the Descendents. But in all honestly, I'm most inspired when I see my friends bands killing it.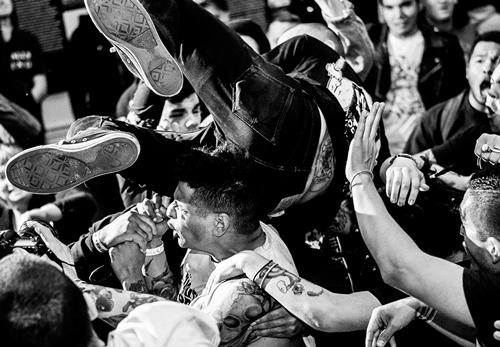 --this new 12"LP title "Not Defined by ViolenceAv" is part of lyric AuDUSTAv.why you named as album title?
Rich- Often times black and brown youth absorb their violent surroundings, whether its physicial violence or state violence. It manifests later in them and sometimes people feel like their options are limited in these situations so they start to define themselves by the violence that surrounds them. That song and name are about that. It was inspired by a friend who is a teacher and a conversation she had with her students.
Jeremy- I support Rich in this statement and in the title of the record.
--about REFUSE record,things started from two BO members toured Europe as PERMANENT RUIN.then they met Robert(REFUSE RECORDS).
from the first,what impression did you had of REFUSE RECORDS?
Rich- Yeah, Robert set up our Berlin show. I had never met him before, but obviously knew of him. I really enjoyed talking about bands we both loved and I was very intrigued by Robert's love for hardcore and its international reltaionships. I gave him a couple B.O. records and when I got home to the states we started talking about a possible release.
Fred- Robert is a such a nice dude and he has one of the coolest record collections I've ever seen. He is a true fan and collector of hardcore. I've been into a lot of the great records he's put out over the years and I'm really glad that we could work with him.
--can you tell us your close local band? EFFLUXUS,IN DISGUST,Ritual Control...etc?
Rich- I played drums in IN DISGUST
Jeremy- I played drums in Effluxus and Ritual Control. Both bands are now defunct. We have a grip of good local bands here right now. I try not to focus on bands of the past and would rather embrace what is happening now.
Fred- We have a lot of friends in a lot of bands and are in a lot of bands with friends.
--all members from san jose? what's san jose like?
Rich- Just me and Fred live here, eric is from here but now lives in Oakland. He abandoned us
San Jose is less cool than the greater Bay Area but I like that. Its got a tight history and deep roots. Musically we've never really been as poppin' as Oakland or San Francisco.
Fred- I'm not from San Jose but I've lived here for about 4 years now and I love it. It's a very large city (the 10th largest in the US) but it definitely doesn't feel like it.
Eric- I currently live in Oakland but San Jose has always been my home. I definitely miss it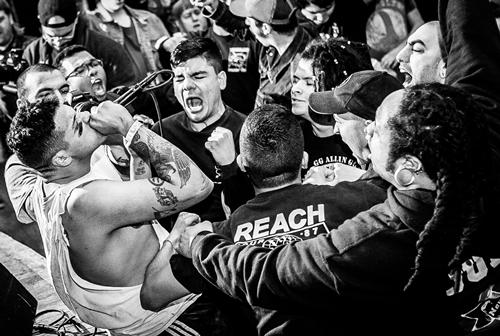 --please show us your local favorite spot.
Rich - Food spot? TOFOO COM CHAY a vegan joint in downtown.
Jeremy- Tofoo Com Chay is good. Ive got a lot of good food by my house in SF. Favorites being New Sandys Cafe for PHO, Yellow Submarine for a sandwich and Escape From New York for a pizza. The list goes on and on.
Fred- Places to eat? I just eat cheeseburgers.Places to catch a gig? The Bay Area is really hurting for good all ages show spaces right now.
Eric - Eduardos or El Rancho in SJ, Shan Dong in Oakland.
Taylor- For food I'd say Taqueria El Faralito and Toofoo Com Chay. For the rest of my disposable income I like to go to DLXSF Skate shop, Green apple books and Thrillhouse Records.
--where have you been for tour? please tell us impressive story or things.
Fred- So far we've done a Southern California weekend, a 10 day northwest US trip with Hounds of Hate, we flew out to Toronto for Not Dead Yet in 2014 and most recently, we did a few shows on the east coast around Damaged City. I think that's it.
Jeremy- Yeah, we have done a few short runs here and there. This upcoming Euro tour might be the impressive story you are looking for but it has yet to be written.
--all members are straight edge?
Rich- I am
Fred- I am not
Eric - not me
Taylor- I am
Jeremy- Only two people are edge heads in his band. I am not one :b
--(for member who say yes)what is the point of straight edge?
Rich- to win
Taylor- It means different things to different people. I would say the point is to be able to feel proud and content with a choice even though it's far outside the norm of the rest of the world.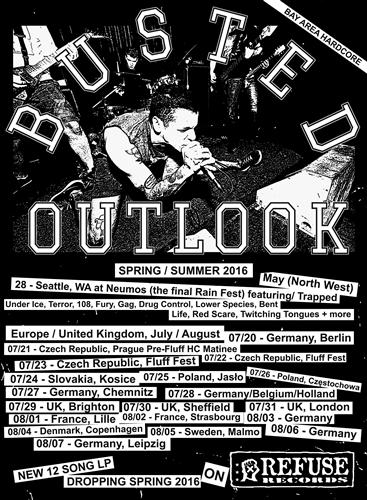 --BO will tour in europe with GOVERNMENT FLU at this summer.how to met them? and what brings BO and GF to this tour?
Rich- Yeah! I am excited for it, we met the guys in berlin, but I've never seen them play.
Fred- We hardly know them but they're a ripping band and I'm excited to watch them do what they do every night.
Eric- I think it will be tight. Robert Refuse set us up with them.
Taylor- I honestly can't wait for the tour. Touring internationally is something I've wanted to do since I got into punk. I've never met any of them but I'm excited to hang and play with them every night.
Jeremy- I haven't met any of them yet but I'm really looking forward to playing gigs with them in Europe. Its going to be a good time no doubt!
--BO played DC fest that organized by COKE BUST.how about the fest?
Rich- So dope! It was fun to play for a different crowd and see a lot of friends.
Jeremy- Yea that fest was sick! I had a great time and I feel like all the people there were feeling good. Ive always looked at that fest as one of the better ones in North America because they strive to include all forms of punk and hardcore. There is focus on bringing all sorts of people out.
Fred- DC is sick. Nick and Chris are the best.
Eric- One of out best sets we've played! So fun
Taylor- It was such an awesome weekend full of sick bands and friends. Very thankful that Nick and Chris asked us to play.
--in japanese hardcore band,BO close to COMPLETED EXPOSITION.how to met you guys?
Jeremy- I met Completed Exposition because I took them on a west coast tour a couple years ago. Love those guys! Im very thankful I met them and the tour was a lot of fun too. Hopefully we can meet again but in Japan this time!
--are there any favorite japanese hardcore band?
Rich- Jellyroll Rockheads, Framtid, Totsugeki Sensya, Gauze, Im sure so many more.
Jeremy- Kriegshog, Gauze, Chicken Bowels, Brain Death, Death Side, Lip Cream, Nightmare, The Sexual, The Clay, the list goes on and on. Japan is blessed with a rich history in hardcore punk. Some of the best for sure.
Fred- Fucking GAUZE, man
Eric - I love Japanese bands. Tomorrow, Anti Septic, Disgust, Gouka, Gauze
Taylor- There's too many to list. Japan has a such an awesome history of great bands. Some favorites are Gauze, Bastard, Total Fury, Lip Cream, Framtid, and Disclose.
--can you tell us about future plan?
Fred- physical copies of the LP will be out very soon from Refuse Records. We're doing a 3 week European tour in late July. After that, who knows?
Jeremy- We all would really like to come over to Japan for the next tour. Hopefully we can make that happen. Also, I'm working on a new batch of tracks. Hopefully we do a new ep in 2017.
photo by angelaowens
May.22,2016 mail interview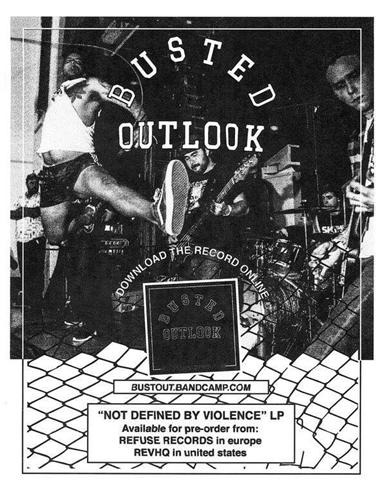 ---
<関連記事>
---